Managing your effort during a long-distance ride
By Jean-Baptiste Quiclet, General trainer of the cycle team SAUR SOJASUN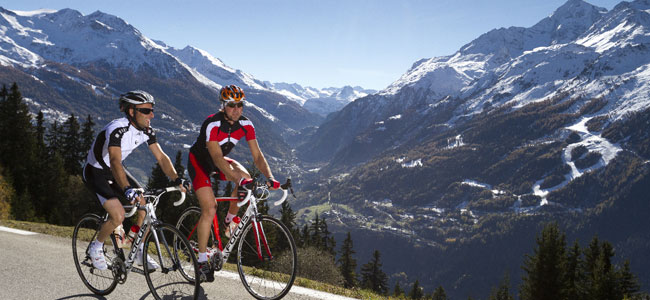 Classic organized rides offer 30 to 60 kilometres routes. Long distance generally implies routes with 7 to 10 hours in the saddle, more even sometimes. The difficulty is the distance and inclines of the terrain. How can you hold the distance and at the same time read the soil? Follow our advice to manage the distance and enjoy the event.
How to manage your effort well ?
Managing your effort in long-distance mountain biking depends on the type of terrain and the rhythm imposed by the difficulties. The first mistake would be to set off to quickly which will very quick use energy stores and to pay for overdoing it at the end of the ride. Here are a few tips to find the right rhythm:
Warm-up before the start in order to activate the cardiovascular system and to prepare your body to perform.
Start with riders of your level for a quick start to the race but at a speed which corresponds to your level. The excitement of the start, the competition can sometimes push you to start too quickly and to go into the red (96-100% maximum heart rate) without feeling it at that moment. This will result in fatigue which we can't generally overcome during the ride. What's more you'll benefit from the effects of drafting of the bunch during the first ¼ of an hour which considerably reduces the energy spent before the first difficulty.
Be careful not to launch into the first climbs more quickly than corresponds to your own level. The best way to manage your race is through a progressive effort as you go on. Control your pedaling for a strong finish in the last hour.
In a group or on your own ?
Riding with other cyclists adds conviviality to the sport, helps to maintain a race cadence and time passes more quickly. Groups are formed during the ride and it's a good to get into the group whose speed seems to be closest to yours. If there's a difficult section, the group allows you to stay in the race and to stick to a rhythm. If you're alone for several kilometres, maintain your moral and wait for the group behind to go past, then follow them.
What are the guidelines for long distance in terms of maximum heart rate ?
Long-distance mountain biking has the characteristic of covering all the heart rates according to each stage of the race:
Recovery sequence, descents: between 50 and 70 % max heart rate (90-120 pulse)
Endurance sequence on flat terrain: between 70 and 85 % max heart rate (120-150 pulse)
Climbing sequence : between 85 and 96 % max heart rate (150-170 pulse)
Climbing sequence with a high percentage: between 96 and 100 % max heart rate (170-180 pulse)
In general, we can imagine an average max heart rate of 75 % over the whole route with occasional peaks of 96 % or more.

How important is nutrition during long-distance mountain biking ?

The mistake is to eat and drink too late and too little throughout the ride. It's advisable to eat right from the first hour and at regular intervals to make up for the energy spent during the race. It's vital to have prepared and studied the composition and the timing of your fueling beforehand as it's an essential element in finishing a ride well. Be careful of food provided, as it's still frequent to see chocolate, cooked meat or cordial at food stations. These foods are not adapted to sport as they are fatty and difficult to digest, and may make beginning your effort again complicated.

How can we avoid sugar saturation ?

Long-distance enthusiasts may find themselves during an event almost unable to eat because of a rejection of sweet foods. Savoury energy food is therefore an ideal alternative during long-distance events. Throughout your effort, alternate sweet flavours and savoury flavours such as peanut ENERGIX, a savoury bar and tomato flavoured HYDRIXIR.