Savoury bar
The strengths of this product :
Savoury energy bar for long-distance efforts

Helps overcome sugar saturation

A smooth texture and savoury taste!
Display unit 30 bars

When sugar saturation appears, it may be almost impossible for long-distance athletes to eat and drink during physical exertion.
The Savoury bar allows overcoming sugar saturation and monotony.
Its texture is appreciated when the need to chew appears.
The Savoury bar completes the action of OVERSTIM.s sports drinks and energy gels and is consumed during physical exertion, in regular intervals and by little portions.
CARBOHYDRATE-RICH EFFORT BAR
Pizza
Ingredients: glucose syrup, tomatopowder, cream of whole-grain rice,
soya
billet (
soya
protein isolate, tapioca starch, salt), maltodextrin, cereal clusters (riceflower, sugar, salt, cocoa butter), partially defattted
almond
powder, stabilizing agents: glycerol, water, sunflower oil, salt, tricalcium phosphate, flavouring, magnesium carbonate, vitamins C, B6, B1 (thiamin). Made in a factory that uses: cereals containing gluten, milk, other nuts.
Neutral
Ingredients: crispy mix 27% (rice flour,
wheat
flour,
wheat
malt, saccharose, wheat
gluten
,
wheat
dextrose, salt),
wheat
syrup,
oat
flakes,
cashew nuts
10%, salted sunflower seeds 9% (sunflower, salt, maltodextrin), stabilisers: glycerol and sorbitol, bulking agent: polydextrose, sunflower oil, fiber of acacia, salt, emulsifier: lecithins (
soya
), vitamin B1(thiamin). Made in a factory that uses: milk, egg, sesame, other nuts.
Nutritional analysis
For 100 g *
Per 30 g bar *
Energy kcal/kJ
333 kcal / 1410 kJ à 410 kcal / 1721 kJ
100 kcal / 423 kJ à 115 kcal / 485 kJ
Fat
4 g à 14 g
1,2 g à 4.2 g
of which saturated fatty acids
1 g à 2 g
0,3 g à 0,6 g
Carbohydrates
59 g à 60 g
17,7 g à 17,8 g
of which sugars
10 g à 19 g
3 g à 5,6 g
Proteins
8 g à 16 g
2,4 g à 4,6 g
Salt
1.79 g à 1.8 g
0,5 g à 0.54 g
Sodium
700 mg à 710 mg
210 mg à 213 mg
Vitamin B1 (thiamin)
0,6 mg (55%**) à 0,9 mg (82%**)
0,2 mg (18%**) à 0,3 mg (27%**)
Vitamin B6
0,9 mg (64%**)
0,3 mg (21%**)
Vitamin C
16 mg (20%**)
4,8 mg (6%**)
Phosphorus
105 mg (15%**)
31,5 mg (4,5%**)
Calcium
120 mg (15%**)
36 mg (4,5%**)
Magnesium
52 mg (15%**)
16 mg (4,5%**)
* = according to flavour
** VNR = nutrient reference value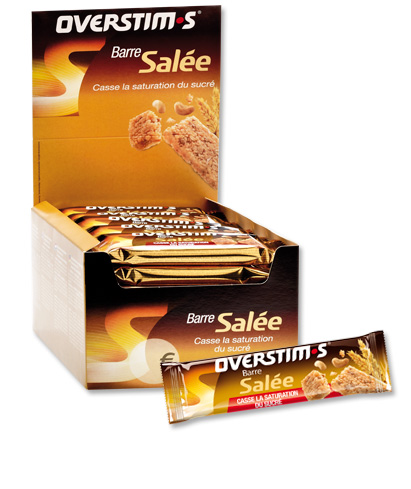 We recommend these products