Salty Energix
The strengths of this product :
The 1st salty overstim.s endurance gel!

Triple energetic action for sustained efforts
Display unit 36 gels

Specially developed for endurance sports, Salty Energix is an efficient and easily absorbed energy source. Its gel consistency is particularly enjoyable during sustained efforts as it saves the efforts of munching during your activity.
Its action is immediate once you absorb the gel thus providing you with instant glucose. A second energy source rapidly comes into action followed by a third one, more consistent, which will help stabilize your glycaemia during physical exertion.
Salty Energix helps overcome the phenomenon of sugar saturation which may appear during long-lasting efforts.
Salty Energix is used during physical exertion to make up for a momentary depletion of energy reserves. Take 1 Salty Energix every 45 minutes to 1 hour.
When the feeling of sugar saturation appears, Salty Energix can help maintain an energy intake for longer.
CARBOHYDRATE-RICH ENERGY GEL
Peanuts
Ingredients: glucose syrup, maltodextrin, water, salt, peanut flavouring, vitamin B1. May contain traces of cereals with gluten, soya.
Nutritional analysis
For 100g *
Per 27g tube *
Energy kcal/kJ
292 kcal / 1241 kJ
79 kcal / 335 kJ
Fat
< 1 g
< 1 g
of which saturated fatty acids
< 1 g
< 1 g
Carbohydrates
73 g
19,7 g
of which sugars
15,2 g
4,1 g
Proteins
< 1 g
< 1 g
Salt
1 g
0.27 g
Sodium
390 mg
105 mg
Vitamin B1 (thiamin)
0,6 mg (55%**)
0,2 mg (18%**)
* = according to flavour
** VNR = nutrient reference value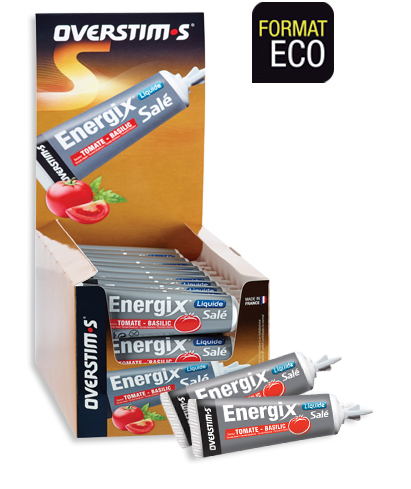 We recommend these products