Red Ginseng
The strengths of this product :
Invigorates, stimulates, energizes

Better resistance to physical stress
60 capsule pill-box

Particularly invigorating and energizing, OVERSTIM.s Red Ginseng stimulates your resistance to fatigue.
Highly recommended for sportspeople, OVERSTIM.s Red Ginseng helps entertain optimal conditions to high performance during periods of intense physical or mental activity.
Its strengths :
Better resistance to physical stress.
Helps limit fatigue and lack of energy.
1 capsule to be taken in the morning for a period of 1 month.
Can be renewed several times during the year.
FOOD SUPPLEMENT WITH GINSENG (68.8%).
Ingredients for 1 capsule: red ginseng powder root Panax Ginseng C.A. Mey. Rubra (220 mg), coating agent: hydroxypropylmethylcellulose, anti-caking agents: magnesium salts of fatty acids and silicon dioxide. Made in a factory that uses: peanuts, soya, milk, eggs, fish, crustaceans, cereals containing gluten, sesame seeds, nuts, sulphites, celery, mustard, lupin, and molluscs.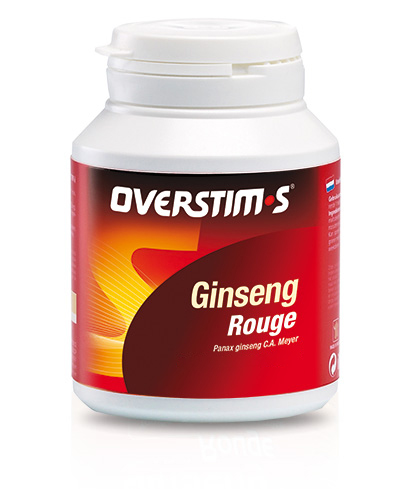 We recommend these products