Organic bar
The strengths of this product :
Organic bar with high energetic value

Organic and gluten-free
Display unit 42 bars

In stock
3/4 days delivery



The organic OVERSTIM.s Energy bar combines the energy of bananas and dates to provide an important energy boost which can be useful for sports practice and / or leisure activities.
Organic Bars originates from organic agriculture and are naturally gluten-free.
OVERSTIM.s is a member of the AFDIAG for its gluten-free range of products.
The OVERSTIM.s Energy bar is a delicious energy complement which can be easily consumed, even during sustained efforts.
ORGANIC CARBOHYDRATE-RICH ENERGY BAR GLUTEN-FREE, LACTOSE-FREE
Banana - dates
Ingredients:
banana
(2)
49.1%, date
(2)
49.1%, rice flour
(2)
, vitamin B1 (thiamine). Made in a factory that uses: egg, soya, milk, nuts, sesame.
(2)
From organic farming. Contains less than 0.5 g/ 100 g of lactose. In accordance with regulations, this product contains less than 20 mg/kg of gluten.
Nutritional analysis
For 100 g *
Per 25 g bar *
Energy kcal/kJ
311 kcal / 1316 kJ
68 kcal / 290 kJ
Fat
0.8 g
0.2 g
of which saturated fatty acids
0.4 g
0.1 g
Carbohydrates
70 g
15 g
of which sugars
48 g
10 g
Proteins
2.4 g
0.5 g
Vitamin B1 (thiamin)
0,88 mg (80%**)
0,19 mg (17%**)
* = according to flavour
** VNR = nutrient reference value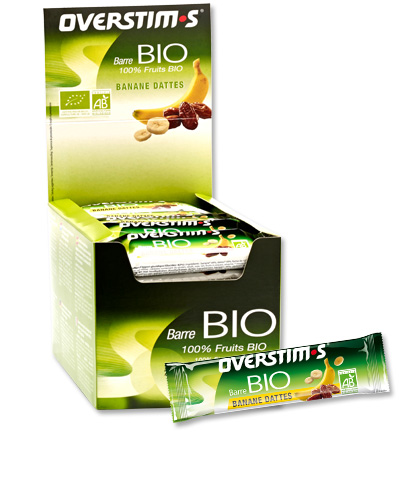 We recommend these products