Gluten-free Marathon Pack
The strengths of this product :
All the products you need for a marathon to reach peak performance

Energy programme designed for your marathon

With liquid gels: particularly pleasant to use during activity

Gluten & lactose-free

Includes one 8-gel belt / race bib carrier
Pack


You need to train regularly and maintain suitable diet to prepare for a marathon.
A lot of energy is used during a marathon and up to 1000 kcal/hour may be burned.
This is why OVERSTIM.s, the creator of the gluten-free Marathon Pack, has brought together its most effective products so that you can reach your objective.
If you take the OVERSTIM.s gluten-free Marathon Pack it will prepare you on the days running up to the run, and help you to be at the top of your game during the marathon.
BEFORE THE MARATHON
Increase your energy reserves with Antioxidant Malto.

Three days before the marathon, stock up on muscle glycogen, by drinking 150g of Antioxidant Malto every day, diluted in 1.5l of water.

Make sure you're in the best possible form at the start of the race by taking an easy-to-digest energy breakfast, Gatosport.

Take 1/3 to 1/2 a Gatosport up to 1 hr 30 before the start.

- Stabilise your glycaemia level while waiting for the start and prevent reactional hypoglycaemia caused by stress with the Pre-Competition Drink.
DURING THE MARATHON
Each time you eat, take an OVERSTIM.s sports gel to give you regular energy and effectively support your muscle activity during the marathon.
OVERSTIM.s sports gel provide concentrated energy, vitamins and minerals (magnesium, calcium, sodium, …) all of which are required while doing a sporting activity, in a very small volume.
IMPORTANT:
The liquid texture of the sports gel makes them particularly pleasant to take during even intense activity, when it is sometimes difficult to consume food.
AFTER THE MARATHON
Within 30 min following your marathon, drink 50 cl of OVERSTIM.s warm-up drink in order to restore your energy reserves, contribute to maintaining your muscle mass and compensate for your effort-related mineral salt losses.
Contents of the marathon pack: 1 box of Antioxidant Malto 500 g: €14.2, 1 box of Gatosport: 400 g €11.50, 1 bottle of Pre-Competition Drink 50 cl: €3.1, 2 tubes of Liquid Antioxidant Gel: 2 x €2.2, 4 tubes of Liquid Energix: 4 x €2.1, 2 tubes of Liquid Coup de Fouet: €5.2, , 1 bottle of warm-up drink 50 cl: €3.95, 1 8-gel belt/race bib carrier: €15.9
OVERSTIM.s is a member of the AFDIAG for its gluten-free range of products.
These products are gluten-free, comply with European regulations (41/2009), and are also lactose-free. OVERSTIM.s is a member of the AFDIAG for its gluten-free range of products.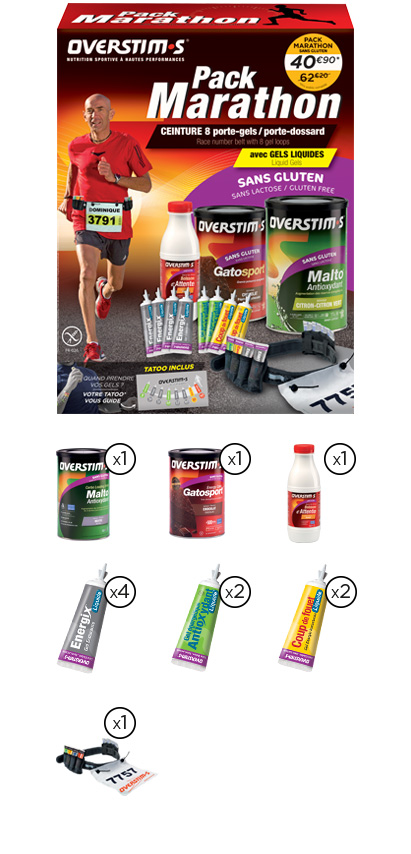 We recommend these products