Performance selection
Die Produktstärkenrken :
Selection of OVERSTIM.s high-performance energy gels

Perfect for sports competitions

Naturally gluten-free

Natural flavours
Schachtel mit 10 Tuben


Verfügbar
Versand in 3/4 an Tagen


Since your energy needs change from one moment to the next, and depend on the course, level of difficulty and your own abilities, OVERSTIM.s has created a Performance Selection with 10 energy gels for maximum effectiveness during your sports activities.
The Performance Selection is perfect for sports competitions (marathons, trails, cycling, triathlons, etc.) and precisely meets your needs during a race.
10 OVERSTIM.s energy gels together in the same box = 4 functions!
4 Energix: long distance energy
The ENERGIX gel was specially designed for long distance sports practice (marathons, trails, cycling, triathlons, etc.) by maintaining your performance throughout a sporting activity lasting longer than 2h.
3 Antioxidant Gels: antioxidant energy*
The ANTIOXIDANT gel by OVERSTIM.s contributes to good muscle function thanks to its supply of magnesium. Its effectiveness is boosted by antioxidants that help protect cells against oxidative stress.
2 Coup de Fouet: instant energy
A true instant energy concentrate, the COUP DE FOUET gel is perfect during a competition at times of intense effort (tough stretches, climbing a mountain pass, etc.) and as you approach the finish line.
1 Red tonic: energy for intense sporting activities
Take the RED TONIC gel during a sporting activity any time you need to replenish maximum energy as quickly as possible and be at the top of your game again.
The OVERSTIM.s gels in the Performance Selection are naturally gluten-free.
OVERSTIM.s is a member of the AFDIAG for its naturally gluten-free range of products.
* Source of vitamin E and zinc, which contribute to protecting cells against oxidative stress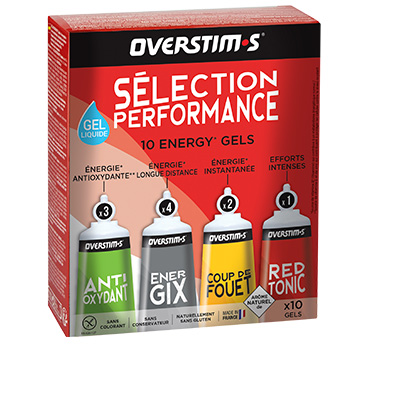 Wir empfehlen diese Produkte