Antioxidant Malto Sticks
The strengths of this product :
Carbo-loading for increased energy stocks

Contributes to normal muscle function

Non-acidic (causes neither heartburns nor digestive problems)

Naturally gluten-free
Box of 20 sticks, 25 g each = 500 g

In stock
3/4 days delivery


Now available as sticks, take advantage of the efficient energy of Antioxidant Malto wherever you are. Light, easy to carry and insensitive to humidity, the sticks are practical and fast to dilute. In some minutes, they permit to prepare your energy stock Antioxidant Malto in your 1,5L bottle.
Antioxidant Malto is naturally gluten-free.
OVERSTIM.s is a member of the AFDIAG for its gluten-free range of products.
Directions for use: On the 3 days before an event: dilute every day 6 sticks of Antioxidant Malto in 1.5L of water, and drink regularly throughout the day. As Antioxidant Malto does not contain preservative agents, the prepared fluid should be drunk on the same day.
POWDERED CARBOHYDRATE-RICH NUTRITIONAL SPORT DRINK FOR INTENSE MUSCULAR EFFORT
Ingredients:
maltodextrins, fructose, dehydrated glucose syrup, flavourings (depending on flavours), tea extract 0.5% (for peach tea flavour), tricalcium phosphate, magnesium carbonate, powdered lemon juice (concentrated lemon juice (dry extract 40%), maltodextrine) (for lemon-lime, red fruits and citrus fruit cocktail), sodium chloride, powdered acerola juice (natural extract, maltodextrin, natural vitamin C), calcium and zinc gluconate, vitamins C, B1 (thiamin) and B6. Made in a factory that uses: egg, soya, milk, nuts, celery, sulphites. In accordance with regulations, this product contains less than 20 mg/kg of gluten.
(3)
for red berries flavour
Nutritional analysis
For 100 g *
For stick of 25 g *
Energy kcal/kJ
376 kcal / 1598 kJ
94 kcal / 399 kJ
Fat
<1 g
<1 g
of which saturated fatty acids
<1 g
<1 g
Carbohydrates
94 g
23,5 g
of which sugars
11 à 15 g
2,7 à 3,7 g
Proteins
<1 g
<1 g
Salt
0,15 g
0,04 g
Sodium
60 mg
15 mg
Vitamin B1 (thiamin)
0,9 mg (82%**)
0,2 mg (18%**)
Vitamin B6
0,45 mg (32%**)
0,1 mg (7%**)
Vitamin C
60 mg (75%**)
15 mg (19 %**)
Calcium
200 mg (25%**)
50 mg (6%**)
Magnesium
90 mg (24%**)
22 mg (6%**)
Zinc
2,4 mg (24%**)
0,6 mg (6%**)
* = according to flavour
** VNR = nutrient reference value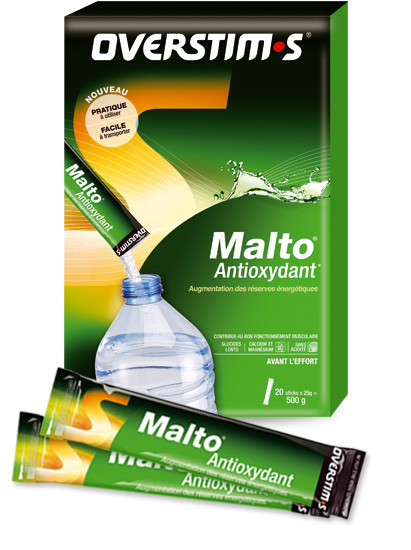 We recommend these products