Malto Carbo-loading Drink
2 kg Doypack

In stock
3/4 days delivery
The strengths of this product :
Carbo-loading on the days preceding your event
Allows a proper hydration
Non-acidic / no sensations of heartburns or digestive problems
By increasing your daily intake of carbohydrates by 20% in the 3 days preceding a race, your body will be able to produce an extra 45% of your usual glycogen stores!
Malto is an energetic drink rich in a low assimilation complex sugar known as Maltodextrin which is widely used by endurance sport athletes as a pre-event carbohydrate loader.
Rather than the usual pasta binge the week before a race use Malto for 3 days leading up to the event.
Half a glass (10cl) of Malto provides as much energy as 2 tablespoons of pasta with neither the disadvantages of digestion nor the overloading and distension of your stomach with large quantities of pasta!
To build up your reserves, simply add Malto to plain water or your usual food or drinks (tea, coffee, etc...) during the days prior to your event.
You can also use Malto to increase the power and effectiveness of your energy fluid by adding an extra dose of Malto to your energy drink.
The plain Malto can also be used in addition to solid food as it has no flavour and does not alter the taste.
3 days prior to an event :
drink 150g (about 9 measures) of Malto in 1.5L of water throughout each day.
During physical exertion :
Increase and extend the energy of your OVERSTIM.s energy drink (+ 1100 kcal for 2 flasks), by adding Malto.
Hydrixir + Malto : the strong combination for sustained and intense long-lasting efforts.
Ingredients (plain flavour): Maltodextrin, magnesium carbonate, tricalcium phosphate, vitamins C and B1.
Ingredients (flavoured MALTO): Maltodextrin, fructose, flavouring, concentrated lemon juice, magnesium carbonate, tricalcium phosphate, vitamins C and B1.
Nutritional analysis
For 100 g *
Energy kcal/kJ
370 - 390 kcal / 1600 - 1650 kJ
Proteins
< 1 g
Carbohydrates
93 - 96 g
Fats
< 1 g
Vitamin B1
0,9 - 1 mg (89 - 91%)**
Vitamin C
20 - 60 mg (25 - 75%)**
Sodium
5 - 60 mg
Magnesium
0 - 90 mg
* = according to flavour
** AJR = Recommended daily intake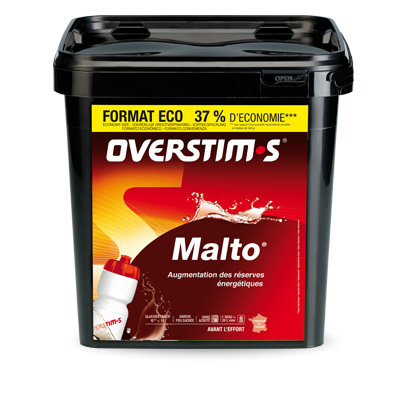 We recommend these products