Liquid Energix
Box of 10 tubes

In stock
3/4 days delivery
The strengths of this product :
A revolution in energy gels...
The first liquid overstim.s gel!
Its texture makes its use particularly agreeable
The Liquid Energix gel is a high efficiency energy gel which is particularly adapted on endurance sports (marathons, trail runs, cycle sport events, triathlon,...).
Its 3 carbohydrate types (maltodextrin, glucose syrup, fructose) guarantee efficiency throughout your effort. The Liquid Energix gel is rich in vitamins B1 and B6 promoting the utilisation of energy.
Its liquid texture makes its utilisation particularly agreeable, even in sustained efforts where it is sometimes difficult to take food.
Directions for use: take 1 gel every 45 minutes to 1 hour during physical exertion.
Ingredients: water, maltodextrin, glucose syrup, fructose, concentrated lemon juice, flavourings, sodium chloride, preservatives: potassium sorbate, sodium benzoate, thickener: xanthan gum, vitamins C, B1 and B6. May contain traces of wheat and gluten.
Nutritional analysis
For 100 g *
Per 36 g tube *
Energy kcal/kJ
196 kcal / 833 kJ
70 kcal / 291 kJ
Proteins
< 1 g
< 1 g
Carbohydrates
49 g
17,1 g
Fats
< 1 g
< 1 g
Vitamin B1
0,60 mg (55%)**
0,20 mg (18%)**
Vitamin B6
0,60 mg (43%)**
0,20 mg (14%)**
Vitamin C
30 mg (38%)**
10,5 mg (13%)**
Sodium
45 mg
16 mg
* = according to flavour
** AJR = Recommended daily intake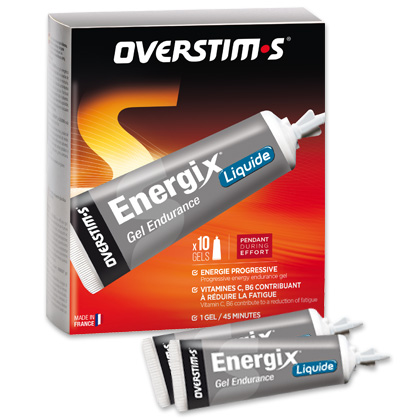 We recommend these products