Liquid Antioxidant Gel
Box of 10 tubes

In stock
3/4 days delivery
The strengths of this product :
Energy concentrate for performance and endurance
Contains magnesium
Its texture makes its use particularly agreeable
By the conjugated action of vitamins and minerals (calcium, magnesium), the Liquid antioxidant gel optimizes muscle function during physical exertion.
The Liquid antioxidant gel is an efficient support for muscle activity supplying:
carbohydrate energy for performance and endurance
B group vitamins which promote the utilization of energy
antioxidant vitamin E
calcium and magnesium which promote muscle function.
Its liquid texture makes its use particularly agreeable during physical exertion, even in intense efforts when the consumption of energy products might be difficult.
Take 1 Liquid antioxidant gel every 45 minutes to 1 hour during physical exertion, and then drink 1 to 2 sips of water or of your OVERSTIM.s sports drink.
Glucose syrup, water, maltodextrin, concentrated lemon juice, tricalcium phosphate, flavouring, magnesium and sodium chloride, magnesium carbonate, sodium benzoate and potassium sorbate, zinc gluconate, vitamins PP, E, B6 and B1. May contain traces of cereals with gluten.
Nutritional analysis
For 100 g *
Per 35 g bel *
Energy kcal/kJ
224 kcal / 952 kJ
78 kcal / 333 kJ
Proteins
< 1 g
< 1 g
Carbohydrates
56 g
19,6 g
Fats
< 1 g
< 1 g
Vitamin B1
0,4 mg (36%)**
0,10 mg (9%)**
Vitamin B6
0,4 mg (29%)**
0,10 mg (7%)**
Vitamin E
1,8 mg (15%)**
0,6 mg (5%)**
Vitamin PP
3,6 mg (23%)**
1,3 mg (8%)**
Sodium
50 mg
20 mg
Calcium
120 mg (15%)**
42 mg (5%)**
Magnesium
60 mg (16%)**
21 mg (6%)**
Zinc
2,4 mg (24%)**
0,8 mg (8%)**
* = according to flavour
** AJR = Recommended daily intake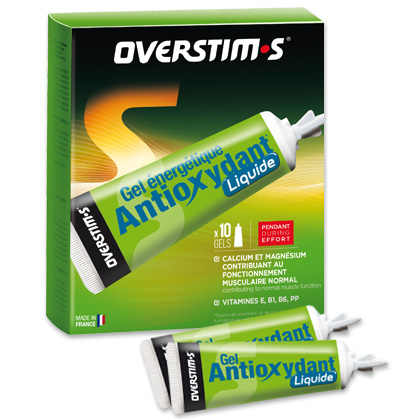 We recommend these products