Joint complex
60 tablet pill-box
The strengths of this product :
Increases your daily joint comfort
Promotes joint suppleness and strength
Optimizes your recovery
A regular sports practice can induce an exaggerated stress on the body's joints. Bulky training sessions as well as joint complications (such as osteoarthritis) can lead to very painful joint soreness causing you to restrain your activities.
The natural marine glucosamine and chondroitine content of the OVERSTIM.s Joint complex, provides an effective synergy for your joint construction and will help you :
Increase a daily joint comfort,
Promote joint suppleness and strength,
Optimize recovery.
The OVERSTIM.s Joint complex also contains essential fatty acids OMEGA 3, which promote general cellular suppleness and act in various anti-inflammatory reactions.
Take 2 tablets per day at mealtime during a period of 1 month.
In certain cases, it is recommended to maintain the intake throughout the year.
Glucosamine sulphate, chondroitine sulphate, microcrystalline cellulose, anti-caking agent : dicalcium phosphate, fish oil rich in EPA/DHA, anti-caking agent : magnesium stearate, manganese gluconate, copper gluconate.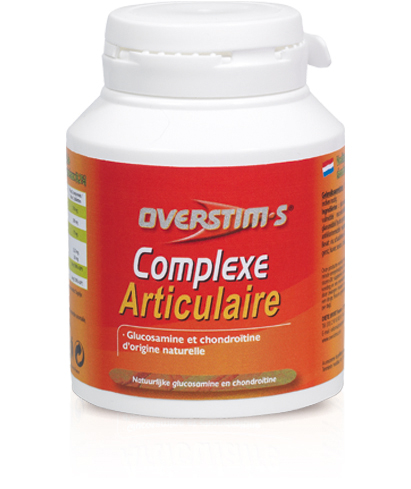 We recommend these products