Antioxidant Hydrixir
600g box

In stock
3/4 days delivery
The strengths of this product :
High-performance sports drink
Prevents muscular disruptions
Non acidic (neutral ph, no digestive troubles)
Antioxidant Hydrixir associates the properties of Hydrixir - high efficiency, dual-action energy, non acidic - with antioxidant properties (vitamin C, zinc) and a calcium and magnesium source to optimize muscular activity during effort. Antioxidant Hydrixir protects against muscular disruptions due to physical exertion, making it easier to undertake repetitive efforts.
Repetitive efforts may increase the production of free radicals, which may lead to muscular disruptions during physical exertion and / or during recovery.
The use of Hydrixir and Antioxidant Hydrixir is similar, and the sports drink can be combined with Malto in the case of very high energy needs.
Antioxidant Hydrixir is instantly soluble in still water.
During physical exertion: sip 5 to 10cl as regularly as possible (ideally every 5 minutes) from the start of the effort.
Increase and extend the energy of Antioxidant Hydrixir (+ 1100 kcal for 2 flasks), by adding Malto.
Antioxidant Hydrixir + Malto: the strong combination for sustained and intense long-lasting efforts.
Drink bottle 600 ml : Antioxidant Hydrixir (3 measures) + Malto (4 measures).
Drink bottle 800 ml : Antioxidant Hydrixir (4 measures) + Malto (5 measures).
600 g tin = 6L minimum of prepared drink
3 kg tub = 30L minimum of prepared drink
NB: Antioxidant Hydrixir contains no preservatives and the prepared drink should be consumed on same day.
Dextrose, glucose syrup, flavourings, tricalcium phosphate, magnesium carbonate, sodium chloride, vitamin C, acerola, potassium, calcium and zinc gluconate, vitamins B1 and B6.
May contain traces of wheat, gluten, sulphites.
Nutritional analysis
For 100 g *
Energy kcal/kJ
380 kcal / 1600 kJ
Proteins
< 1 g
Carbohydrates
92 g
Fats
< 1 g
Vitamin B1
0,90 mg (82%)**
Vitamin B6
0,45 mg (32%)**
Vitamin C
60 mg (75%)**
Sodium
60 mg
Calcium
200 mg (25%)**
Magnesium
90 mg (24%)**
Zinc
2,4 mg (24%)**
* = according to flavour
** AJR = Recommended daily intake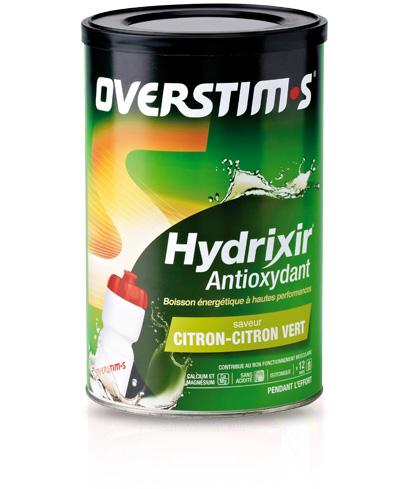 We recommend these products